Ok, first a little background on me. I'm 25, married, no kids (yet), own a house and have a mortgage and work as the head of IT for a small company in Altoona, PA. I'm used to using Google on a daily basis for both personal and work. I practically use all of Google's web services, from the online spreadsheets and documents to Gmail and Google Bookmarks, so I have A LOT of information in these accounts. I run firewalls, antivirus, and antispyware on all the systems at home and on the ones I manage, so security has never been an issue. I also must note that the passwords that I use are non standard, not words, and are made up of numbers, letters, and other characters in both uppercase and lowercase.

The story:

On Wednesday I was in my gmail account following up with my usual emails. Nothing was out of the sorts. I closed out of my Gmail for the night.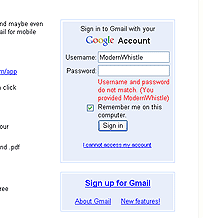 Upon checking my Gmail on Thursday morning at about 8:45, I had trouble signing in. Gmail just wouldn't take my password. I thought to myself if I had been putting in the wrong password, so I tried all other passwords I could think of. It then hit me that either my account was locked out or someone changed my password. I did a little research on the password issue and found that someone must have changed it! I now was in panic mode, just thinking of everything that could be potentially lost or compromised. I have emails in my Gmail account for services I've signed up for, such as paypal, web hosting, etc... I always change these passwords from the default ones, but it's still the principal of having that 'link'.

My next task was to try and reset my password to try and get back into my Gmail account. I used the 'lost password' form, which was supposed to email a link to the secondary email account in the Gmail account in case of such emergencies. After it said the email was sent, I began checking what I though was my backup email I had set. Nothing came in.... I re-submitted the lost password form, and I still never got an email... I checked my other email accounts to see if I got anything there... No Dice! I then realized that the secondary email that was in my Gmail account was an inactive email address from an ISP (Atlantic Broadband), that I had gotten rid of a year ago. I'm now on Verizon Online. My heart sunk knowing that not being able to get access to that account would not let me reset the password. The only other way to reset a password in Gmail would be having the account sit inactive for 5 days, and then answering the security question I set, or that the new intruder might have set! I didn't have 5 days, and what's to say that the new squatter would let my account go inactive.

I took a shot in the dark and loaded up the address of Atlantic Broadband. I clicked on the login link, put in my old username and password to the now over a year old account and clicked the Log In button..... The page reloaded WITH ME LOGGED IN! My account was still active (even thought I stopped paying the bill a year ago!) I was able to get to my email! Checking the email showed me the link to reset the password!! YES!!! The guy that squatted on my Gmail account slipped up and didn't change the secondary email account! I was able to immediately reset the password.


Logging into my Gmail account yielded some very startling information. I immediately saw 4 new UNREAD emails... some confirmation emails. I had confirmation emails from both Dell and PayPal. I clicked on the PayPal email expecting to see some sort of phishing scam, but in the email weren't the usual "reset your password" links that go to some url like "http://im.stealing.ur/information/password_reset.htm". I just about had a heart attack when I saw the payment amount $3,371.76 USD. I also saw that they used my name for the shipping address, but another shipping address for the road, city and state. I then went and opened the Dell email. Sure enough it was a confirmation for the purchase of 2 computers. Not just 1 but 2... selfish bastard.... Pretty nice systems too, but they could have done better. I then went to the other Dell email that was there, and it said that the order was delayed because PayPal wouldn't authorize the payment. I then opened the last email and it was from PayPal saying that my account access was limited due to "...reason to believe that my account was accessed by a third party...". Whew... PayPal blocked the payment. I had to laugh to myself thinking that if Paypal even tried to process anything it would have bounced BIG TIME!

Up to this point I've never had a problem with PayPal. I've always just used their services for ebay only, and my purchases are far and few.


Now realizing that this idiot has gotten into my paypal account (yeah, ok, so I was stupid and had the same password on my paypal account as my Gmail account, although the usernames were different). I tried logging into my PayPal account, and found that it was truly limited (thought the password wasn't changed on me- yay!). I was able to go through the actions to reinstate my account, all for the last step. When you have your account limited through PayPal, you must complete 3 steps:


1. Reset password (duh, and not the same as Gmail this time!)
2. Make a new security question
3. Verify the account with the phone number on the account.

The last one is what messed me up. Sadly (and I gotta stop doing this) the phone number on my PayPal account was my previous telephone number, meaning that I couldn't have PayPal call me (with their automated system) to verify the account. So I called PayPal instead.

After about 10 minutes on hold and 3 annoying songs later, I was able to talk to an agent that helped me reset my account and get it straightened out. She was helpful in doing so, and also made sure that the transaction was cancelled, and also helped log the information that I had from the fraudster from the Dell order confirmation. I believe PayPal has a decent fraud system in place, but I don't expect any outcome of their "investigation".

Ok, now I expect to get emails from people condemning PayPal... There are obvious risks if you do something stupid. - I know!

After I got PayPal taken care of, I called Dell and made sure they cancelled the order, and that they were aware of the fraud. Mission complete. I have never given out passwords, or typed them anywhere where they would be plain text. I still have no idea how they got my password.

My next mission was to see what I could find on this guy, someone has to tell his parents! So I went about my research that I had detailed in my previous email....

I'm asking for help in solving this mystery. We have a cell phone number and name from Texas, and then a shipping address in Atlanta, GA.

This isn't about settling a personal vendetta, but collaborating and solving a case. This is the ultimate detective story!

-Nick