A Catalogue of Link Sites
When you are looking for fun, fresh stuff online, your best bet is to find a good links site. There are a lot of them, and I think the key is to find one with an editor that thinks like you.

Don't be too swayed by splashy design on these pages. The pages that look most like a tool might be the best tool.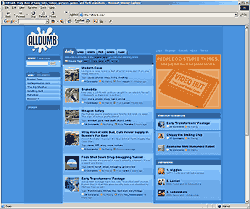 Alldumb.com - Daily doses of funny links, videos, pictures, games, and flash animations.
attu.blogspot.com - attu sees all
bbspot.com - satire, phony news stories
big-boys.com - pictures, videos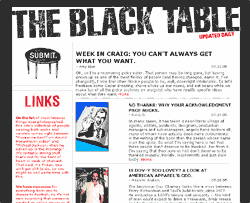 Blacktable.com
blogthebloggers.com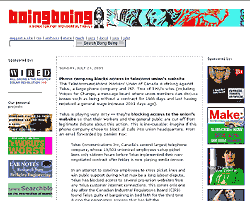 boingboing.net - A Directory of Wonderful Things

One of my favorites. When they link, boingboing often posts images and long quotes from the linked items.
Bifurcated Rivets
cynical-c.com
daypop.com/top
del.icio.us This site is different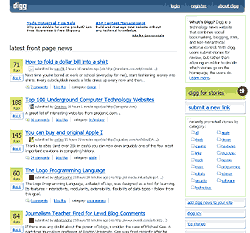 digg.com
dreamchimney.com/oftheday
ebaumsworld.com
explodingcigar.com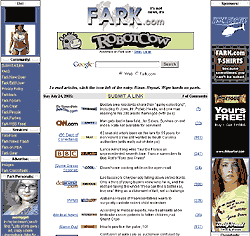 fark.com
The king of funny links. Very active message boards.
fazed.org
gawker.com
growabrain.typepad.com/growabrain
ilovebacon.com
i-am-bored.com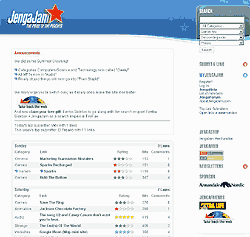 jengajam.com
j-walkblog.com
kontraband.com
kottke.org
linkfilter.net
leenks.com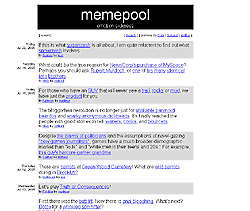 memepool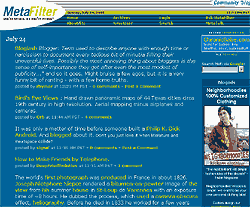 metafilter.com

One of my favorites. As intelligent as comments get on the web.
milkandcookies.com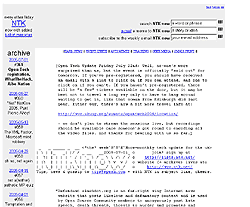 ntk.net
obscurestore.typepad.com
origamiboulder.com
presurfer.meepzorp.com
robotwisdom.com
sensibleerection.com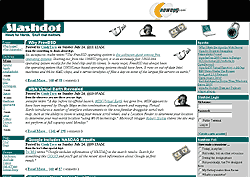 Slashdot.com - News for nerds, stuff that matters

I think slashdot is the king of the linking sites. If slashdot links to your website, you will get so much traffic that your webserver will freak out, melt down, sober up, break up with his fiancée and emigrate to Canada.

Very active comments.
szanalmas.hu
Hungarian.
waxy.org
And that is it. I know each of these promises many hours of entertainment. Don't forget to come back and visit Cockeyed from time to time.
Home | Contact Rob | How Much is Inside | Incredible Stuff | Science Club |
July 24th, 2005. Terms and Conditions Copyright 2005 Cockeyed.com