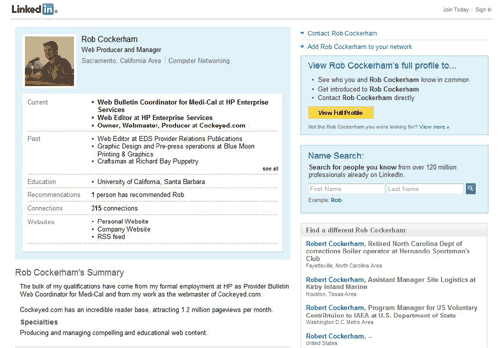 Outside of Cockeyed.com I have a real job ...usually. Friday marked the end of my real duties as Web Supervisor for Medi-Cal Provider Publications at HP. Last year HP lost the giant Medi-Cal contract to another company: ACS. Today (Monday) ACS took over the publication duties for Medi-Cal.
HP has a program where they provide a few weeks of full-time "job search" employment for their permanent workers who are on their way to being laid off, so that's where I'm at now, pre-unemployed.
Let me know if you have an opening. I'm in Sacramento. I have the most experience and skill at web design, editing, content creation and general webmastering. My favorite things to do are to build useful things with a team and to troubleshoot problems. I've always been the guy who is best at describing a complex situation in english.
My Linkedin profile: http://www.linkedin.com/pub/rob-cockerham/25/35a/77a
I'd also like your help exercising my Linkedin profile. Please add me to your network in Linkedin.
My email address is cockeyed@pacbell.net.
Thanks!
---
Update!
I got a job with Intel in Folsom, CA. I'm doing web design and development for their staff marketing and channels team. I'm on a one year contract through an employment sourcing company called Synergy Seven, who hired me through a fourth-party candidate finder contract company called Resource Logistics.