Pizza Race: Round Table vs. Papa Murphys Pizza
Recently I discovered the joy of Papa Murphy's take-and-bake pizza. Founded in 1981 or 1995, the concept is simple: Assemble fresh pizzas and have your customers bake them in their own ovens. Capitalism is all about finding a niche, and take-n-bake fills the gap between frozen pizza and restaurant pizza.
It was easy to see that take-and-bake pizza has an advantage (it is cheaper) and a disadvantage (it requires more effort). But I was left with with a question that was not as easy to answer: Was it faster?
If I'm hungry at home, desperate to eat pizza as fast as possible, is it better to order from a regular pizzaria and have it delivered, or to pick one up from Papa Murphy's and cook it at home?
Thus was born the Pizza Race.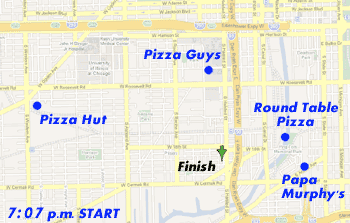 The initial plan was to simultaneously order a pizza from both Round Table Pizza and Papa Murphy's. The winner would be the first pizza which was in my house, cooked and ready to eat.
(More than one hot pizza) + (live competition) = (super partytime)
The guestlist grew and before we knew it, we needed a few more pizza pies.
No problem! Four competitors would make this even more interesting, so I added Pizza Hut and Pizza Guys.

To be perfectly fair, we should have ordered four identical pizzas, but in this instance, the party was more important than the experiment, so we decided to order a variety of two-topping pizzas.
Four of us prepared for a four-way simultaneous pizza order.
At 7:07, we dialed: Odie called Pizza Hut to order a large mushroom and olive, Alicia called Round Table for a large ham and pineapple. Nick called Papa Murphy's Take-and-bake for a pepperoni and mushroom and I called Pizza Guys for a large pepperoni and sausage.
I was a little nervous that the people taking these orders would hear the other conversations in the background, and cry foul, but they didn't notice, or if they did, they didn't say anything about it.

Alicia was the last person one off of the phone. Roundtable had given her a 45-minute to one hour estimate for pizza arrival.
Papa Murphys said that Nick's raw pizza would be ready in 20 minutes. Pizza Hut estimated 30 or 40 minutes for their pizza, and the Pizza Guys gave me an ETA of 45 minutes.
"350 degrees", Nick declared, ending the call. That was the target temperature for pre-heating the oven.

Now, all we could do was to sit and wait... except for Nick and Alicia...they had an uncooked pizza to pick up.
Guess which pizza won?
All these pizza places are franchises: Round Table Pizza -http://www.roundtablepizza.com/RTP/about/franchising_form.asp | Pizza Guys - http://www.pizzaguys.com/home/franchise.cfm | Pizza Hut - http://www.yumfranchises.com/fran_process/fran_process.asp |Papa Murphys Take 'n' Bake Pizza - http://www.papamurphys.com/public/franchise_franchiseOpportunity.cfm
Breathalyzer Testing | Spinning Rim Centrifuge | Backwash Experiments | Tanning | Making a Candle Out of Lipstick | Insulation Testing | Eating Out | Eating In | Tattoo Removal | Viscosity Testing | Magazine Advertising | Collecting Data | Dropping Toast | Refilling an Ink Cartridge | Tampons | Light Bulbs | Dissecting a Hot Pocket
contact Rob | how much is inside a keg | height weight chart | how much is inside goldschlager | backwash | science club | pranks | How much is inside? | Home | Incredible Stuff I Made | Car Rollover | Traffic Court

April 5, 2008. Terms and Conditions Copyright 2008 Cockeyed.com