How Much is Inside Honey Bunches of Oats with Almonds?
How Much of this cereal is Almonds?
By Rob Cockerham |
Cold cereal walks the line beween healthy breakfast and a sugary junk food. To become a top-seller, cereals have to be delicious and good for you.
Not satisfied to saturate their oat bunches with honey, Post now offers Honey Bunches of Oats with Almonds. But how many almonds did they include? The box seems to show at least five and a half whole almonds, which isn't hard to believe.
Is the milk-repelling spoonful on the box truly representative of a typical scoop of Honey Bunch Cereal?
On Friday night, we decided to find out.
My native Sacramento is home to Blue Diamond Almonds. Because of this, I've got a special place in my heart for Almonds. Blue Diamond is a cooperative of almond growers, organized to never allow the price of almond crops to fall to the lowest bidder.
Blue Diamond is sometimes known as the DeBeers of Nuts.
They encourage the use and overuse of almonds in all products, from cakes to mayonaise. In fact, Blue Diamond suggests that you eat at least 4 ounces of almonds every day to prevent heart disease.
Here Brooke holds a 22 Carat (1.1 gram) uncut almond.
The first step was to buy a 16 oz. box for $3.59 and dump the complete contents out onto the table. For the purposes of this experiment, my dead homies would have to wait for breakfast.
Mike, Brooke and Sean agreed to help me hunt down and catalog each slice of tasty snack wood.
One thing we noticed immediately was that Honey Bunches of Oats was a lot more complicated than other breakfast cereals. Laying in front of us was an extraordinarily rich and diverse field of flakes, grains and nuts.
The time flew by. It was an exciting time for all of us, and not just because we were finding a lot of oil-rich almond flakes. We each felt that this was a good opportunity to identify a previously unknown species of grain or cluster.. but who would find it first?!
Clawing our hands through fistfuls of cereal led to a host of "toy at the bottom" cereal memories. Soon I had introduced everyone to my green elites armyman collection, and we became immersed in tabletop trench warfare.
Both sides had an ample supply of nut cluster bombs, but Sean emerged as the top cereal killer.
Also, we found all of the almonds. There were 23.1 grams of almonds total in the box of Honey Bunches of Oats, the equivalent of 20 almonds. Not bad!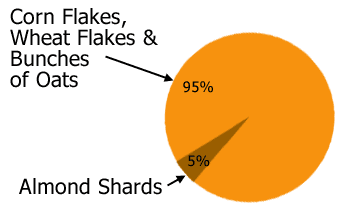 Not bad, but not anything to write home about either. The box was still mostly flakes.
The picture on the front of the box had not misrepresented how many almonds were in the box, but one question remained: Did the spoon illustration on the front of the box represent a typical scoop of almonds?
The answer was "No".
A spoonful of cereal contains 3.6 grams, so the entire box (453 grams) can be held in 126 spoonfuls. If the 23 grams of almonds inside are divided evenly, the average spoonful contains just 0.18 grams of almonds!
To show the difference, I've accurately re-imagined the box-front illustration here, complete with Matrix-inspired milk splash. Honey Bunches consumers beware! You should only expect an average of one slice of almond per spoonful.
Honey Bunches of Oats is never going to prevent you from developing heart disease, but should you stop buying and gorging yourself with this wonderful cereal? Of course not. Just remember to include plenty of almonds in your lunch and dinner too.