How Much is Inside Peanut Butter?
How much celery can you fill with a jar of peanut butter?
By Rob Cockerham |
Peanut butter.
A favorite among children, vegetarians and elephants, peanut butter holds a prestigious position in the hierarchy of american food. It is a good food which is actually good for you. For this reason, it is incredibly expensive, fetching $3-$5 per jar.
The undiluted peanut flavor is too strong for many, so it is usually combined with other foods to temper its fresh-roasted impact. One common method of peanut butter delivery is to pack the channel of celery stalks.
This preparation can become a geometric nightmare. Measuring the size of the celery channel, and calculating the apropriate volume of peanut butter has stymied more than one junior chef.
How much celery can one jar of peanut butter fill? On Sunday night, we decided to find out.
This experiment was going to take a lot of patience, and a lot of celery. Michelle cracked open the Jif and immediately fell in love.
Oh, that Jif is smooth!
I raided the produce section in Safeway, buying 9 bundles of celery for $1.49 each.
The plan was to use one whole 28 ounce jar of peanut butter, to fill as much celery as possible.
Johnnie, Michelle and Meredith got right to work.
Peanut butter fever swept through the barbeque. Most everyone had celery-packing experience, so we skipped my powerpoint presentation.
It was easy, if a little messy. It would have been a cleaner operation if we had just used whole shelled peanuts, before they were crushed into paste.
Or, we could have done it sober.
There really aren't a lot of other actions in food preparation like loading a stalk of celery with peanut butter. You could say that it is like frosting a raingutter, rolling your own vegetable cigarettes, or preparing kinder-sushi.
All cockeyed.com experiments are performed in sterile conditions... well, at least 50% sterile.
In 20 minutes, we were out of peanut butter. We had filled almost every inch of celery, 57 stalks!
Does this photo remind anyone else of Dr. Oz's wedding reception?
To gather the most accurate data, we lined up the pieces on the sidewalk.
It looked like a tiny peanut butter aquaduct.
With night falling, and all this peanut butter at ground level, someone had to mention that rats love peanut butter.
It is exceptional bait for rat traps. I also used celery in a trap one time, and accidentally caught one of the Wonder Pets.
All the pieces were on the ground, and we had an answer: The jar of Jif held 35 feet, 5 1/2 inches of peanut-buttered celery!
This delicious snack was the length of six people layed end-to-end! Take that fruit roll-ups!
Of course, you should always excercise caution around peanut butter celery.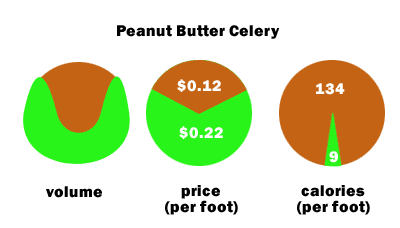 The data went back to the lab, and the results were astounding!
Celery actually turned out to be the expensive component in this recipe, comprising 64% of the food cost. Unfortunately, the peanut butter turned out to hold 94% of the calories.
These numbers might tempt you to leave out both the celery AND the peanut butter, and find a replacement for both. I'm here to tell you, you shouldn't do that.
All the numbers in the world aren't going to make a taco shell of lard taste this delicious!