Oh man. I got my hands on a satellite dish, and soon I'll have a free source of 13,000 watts of power!
Longtime readers of Cockeyed.com will probably remember that I've tried this before. Inspired by the island episode of Rough Science, I attempted to build a solar-concentrating parabola out of mirrors.
That attempt failed, and I was only able to heat water a little bit.
However, my struggles inspired Louis Giersch to produce two sunlight concentrators himself, the second of which he coined "the Solar Death Ray".
The death ray used 112 mirrors to reflect 112 patches of sunlight onto one spot.
Louis did a terrific job of showcasing the abilities of his solar tool, and now I would like to get in on the action.
http://www.solardeathray.com/why.html. (Update 2011: Link dead)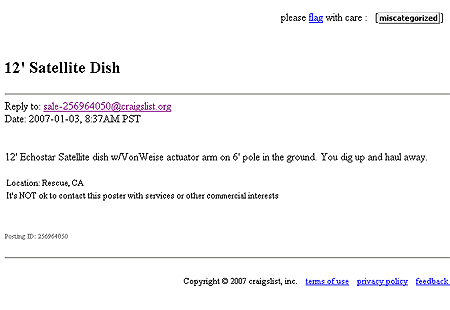 Since finding a home with a backyard, I'd been trolling Craigslist for old school (C-Band) satellite dishes, which I thought would be the easiest path to constructing an effective solar concentrator. In January, I hit pay dirt with a 12 foot diameter satellite dish being given away by a couple from Rescue, CA.
The truck I borrowed was a bit undersized for this operation, so I made the mistake of disassembling the dish into six radial segments for the trip back to midtown Sacramento.
I don't think Stacy was prepared for how huge this dish is. To be honest, I wasn't either.
Three of the six segments.
The dish is made of aluminum. 18 curved ribs hold 18 triangular screens in a shallow bowl shape.
Re-assembly was a challenge which was drawn out over several weeks.
I used a 40 gallon garbage can to support the center of the dish as I re-connected the segments.
In addition to the dish itself, the all-important mounting equipment was included, although the pieces were a puzzle, as I had no instructions or guide as to how the mount operated. (The mount had been disassembled when I picked it up)
These pieces are not made of aluminum, they are heavy steel.
The ribbed thing in this photo is one end of a Von Weise actuator, which is designed to tilt the dish left and right, to point at different satellites.
I didn't know how that was controlled or even connected, but I was pretty sure I could figure it out.
My new satellite dish is big. It has approximately 60 times the surface area as an 18" Dish Network satellite dish. My goal is to cover this baby in mirrors and point it at the sun.
If the mirrors are aligned correctly, they will focus a very large patch of sunlight into an extremely hot sharp point of light.
It is The Light Sharpener.
Please continue reading Page 2 of the Light Sharpener.