Easy, Illustrated Instructions on How to Sew a New Shade Structure Canopy for your Patio
Page 1 | Page 2 | Page 3 | Page 4

A few years ago, Stacy and I bought a steel framed shade structure from Target.
It had a lightweight waterproof fabric top and four mosquito net walls that could be zipped shut.

It was great to have a shady oasis in the backyard during the summer.
After a few years in the sun and the rain, The fabric top began to fade and rip. I tried mending it, but the fabric was too threadbare to hold stitches, and patches would have made it look like a hobo camp tent from a depression-era Mickey Mouse cartoon. Eventually I took the cover down.
I bought the wrong size replacement canopy (10'x10' instead of 12x12'), returned it and vowed to try sewing my own. I had taken some measurements and notes from the original canopy, and had even saved one fabric panel from the original.
But that winter, I got a sewing machine for Christmas!
I was in business. After a few small projects to get my bearings, such as this red patio umbrella, I set about making the new canopy.
The shape was straightforward. Two parts: A large tipless pyramid comprised of four trapezoids, topped by a smaller pyramid, comprised by four large triangles. It wasn't complicated, but it was huge. Each seam was six feet long, and I'd have to start with a ton of fabric.
I planned on cutting the trapezoids from a single bolt of cloth, as shown above. That strip of cloth would have been 11 yards long.

Unfortunately, the fabric store had some surprises for me. For one, stripes of fabric almost always went along the length, instead of across it. Also, laid out this way, there wouldn't be enough fabric in the width to add decorative scallops to the canopy. Even without decoration it was an inch short.
I needed a new plan.
The new plan required the cloth to be cut into many more pieces, just to be re-assembled with the sewing machine.

This would add a lot of work to the project, but it was the only way to have the stripes oriented so that they ran down the awning, instead of across it.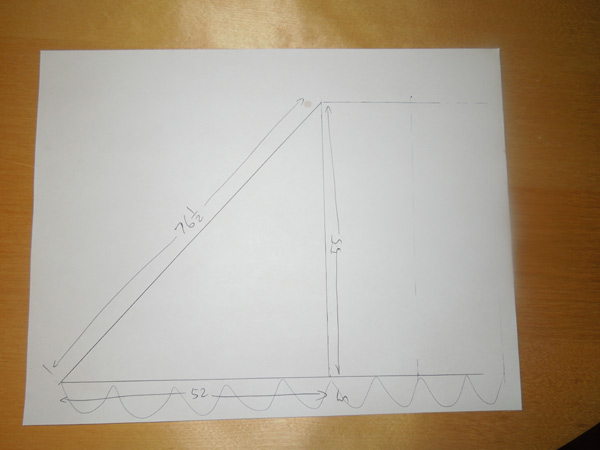 I almost let the fabric dictate my design, settling for a solid canvas color instead... but then I came to my senses. What's the point of creating your own patio cover canopy if you can't make one which is better than the ones for sale on Amazon?
My canopy was going to have 1) vertical stripes and 2) decorative scallops!

I ended up buying 16 yards of "outdoor" fabric and two spools of heavy duty blue thread. I buy fabric at a store called "Joann's Fabric". They almost always have coupons online or in their mailer. The total cost was $177.
Amazon has some nice patterns on their outdoor fabric too.



page 1
|
page 2
|
page 3
|
page 4