Easy, Illustrated Instructions on How to make giant Googlie Eyes for your Halloween Costume and Win Costume Contests
I realized this year that googlie eyes are key to winning costume contests. Looking back at my ridiculous array of costumes through the years, the costumes with oversized googly eyes have fared the best.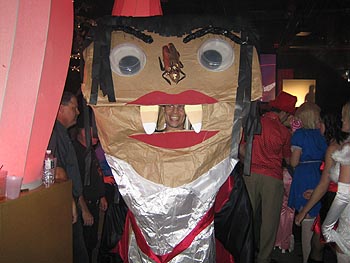 The Fandango paper bag hand puppet costume was the first, winning the Zone ball in Sacramento. After a hiatus of three winless years, I was back in the winner's circle with giant googlie eyes on the "Money you Could be Saving with Geico" costume.
This year, 95% finished with my spinning tornado costume, I added oversized googly eyes and cruised to costume contest victory.
Here are two ways to get giant eyes with that tell-tale google-eyed look: 1) Smear oil onto two translucent plastic bowls
When I looked for clear mixing bowls, the only ones I could find were made of glass. That doesn't work for costumes. Plastic bowls are unbreakable, lightweight and cheap, but are typically made of a type of textured plastic which is translucent, but not exactly transparent. Buy bowls like this and overcome the texturing by smearing them with a coat of vegetable oil.
This will make them quite a bit clearer, nearly transparent.
To make the googlie-pupil, I use two smaller bowls, in this case spray painted black. One time I bought a "tap light" for the purpose of making a pupil, but found that the rounded plastic packaging had the same shape with a tenth of the weight.
The rear of the eye should be made from white foam-core, a lightweight rigid board material that is found at craft stores. A cheaper option is to try gluing white paper to cardboard.
Trace the bowls onto the foam core and cut circles out of them with an xacto-type razor-blade.